Among the many impacts of the coronavirus pandemic, one of the least publicised is that of low back pain. Far more of us are currently working from home, often without the necessary ergonomic support of chairs and desks designed to prevent back problems, and as a result, physiotherapists are seeing a growing number of patients presenting with low back pain.
One way of treating low back pain is with electrotherapy. The practice takes advantage of the high excitability of nerve fibres, stimulating them with electrical pulses to achieve a number of therapeutic effects. As well as pain relief, this includes stimulation to help strengthen muscles, meaning it can be used to address both the symptoms and causes of low back pain.
Treating the SYMPTOMS of low back pain with electrotherapy
Most acute low back pain is a result of injury to the muscles, ligaments, joints, or discs. The body's reaction to injury is to instigate an inflammatory healing response, which can cause severe pain.
TENS (Transcutaneous Electrical Nerve Stimulation) uses electrical pulses to provide pain relief by blocking pain signals from reaching the brain. High frequency (HF) TENS, or sensory stimulation, uses pulses of 80-100 Hz and works via the gate control mechanism, inhibiting the transmission of pain signals to the brain while producing a pleasant tingling sensation. As a result, HF TENS is effective for providing patients with relief from the symptoms of lumbar pain.1
However, rather than just treat the cause of the pain, it's important to also address the cause of the injury. Thankfully, electrostimulation also has an answer for this.
Treating the CAUSES of low back pain with electrotherapy
Sitting slumped over a desk while you work puts increased strain on the muscles and ligaments in your back, which can then lead to injury and low back pain. To address the cause of posture-related low back pain, we need to restore balance between the trunk flexors and extensors and strengthen our paraspinal and abdominal muscles to improve spinal stability and help us sit up straight. This is where NMES can help.2,3
NMES (Neuro Muscular Electrical Stimulation) uses electrical pulses to produce muscle contractions, mirroring the impulse sent from the brain. NMES can be used as a standalone treatment, but is most effective when used in combination with voluntary exercise such as proprioceptive or functional rehabilitation.
By safely controlling the contractions, the muscles can be made to exert themselves much more than the patient would be capable of voluntarily, and without placing additional stress on joints. Additionally, NMES can help the patient to recruit the deep lumbar stabilizers.3,4 This allows patients to effectively and safely strengthen their trunk muscles during exercise, thereby helping to address the causes of low back pain.2,3
However, if symptoms remain, functional rehabilitation for low back pain can still be carried out by combining NMES and TENS in a single treatment. One device with this function is Chattanooga's Intelect Mobile.2
Intelect Mobile 2 – the next generation in electrotherapy
Intelect Mobile 2 is an innovative device designed to provide clinicians with everything they need for effective electrotherapy treatment, and comes in three different configurations, STIM, ULTRASOUND, and COMBO.
All three options include an intuitive touchscreen user interface, a library of suggested protocols, and Bluetooth connectivity for easy software updates. And as the name suggests, the device is truly mobile, enabling it to be easily carried or mounted on a wheeled cart.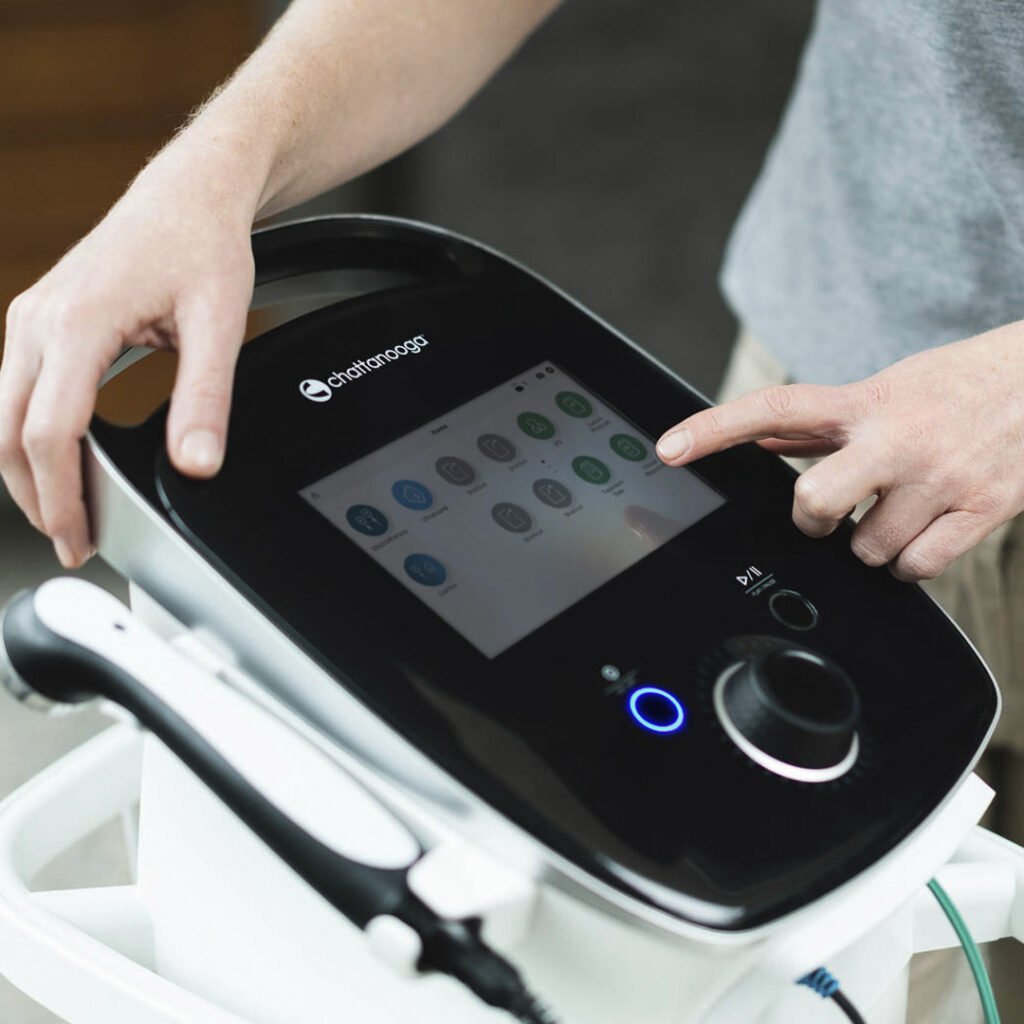 Intelect Mobile 2 STIM and COMBO provide 2-channel electrotherapy with over 20 different waveforms, offering therapists multiple treatment options. For instance, when treating a patient with low back pain, Channel 1 can be used to deliver TENS treatment for pain relief, while Channel 2 provides muscle stimulation to support functional rehabilitation exercises. Or therapeutic ultrasound can be used as an adjunct pain-relieving modality.5
Altogether, Intelect Mobile 2 is an excellent option for therapists interested in using electrostimulation for treating not only low back pain, but also a range of other neuromuscular conditions.
References
Jauregui JJ, Cherian JJ, Gwam CU, Chughtai M, Mistry JB, Elmallah RK, Harwin SF, Bhave A, Mont MA. A Meta-Analysis of Transcutaneous Electrical Nerve Stimulation for Chronic Low Back Pain. Surg Technol Int. 2016 Apr;28:296-302.
Durmus D, Akyol Y, Alayli G, Tander B, Zahiroglu Y, Canturk F. Effects of electrical stimulation program on trunk muscle strength, functional capacity, quality of life, and depression in the patients with low back pain: a randomized controlled trial. Rheumatol Int. 2009 Jun;29(8):947-54.
Baek SO, Cho HK, Kim SY, Jones R, Cho YW, Ahn SH. Changes in deep lumbar stabilizing muscle thickness by transcutaneous neuromuscular electrical stimulation in patients with low back pain. J Back Musculoskelet Rehabil. 2017;30(1):121-127.
Coghlan S, Crowe L, McCarthypersson U, Minogue C, Caulfield B. Neuromuscular electrical stimulation training results in enhanced activation of spinal stabilizing muscles during spinal loading and improvements in pain ratings. Annu Int Conf IEEE Eng Med Biol Soc. 2011;2011:7622-5.
Goren A, Yildiz N, Topuz O, Findikoglu G, Ardic F. Efficacy of exercise and ultrasound in patients with lumbar spinal stenosis: a prospective randomized controlled trial. Clin Rehabil. 2010 Jul;24(7):623-31.